28.09.2018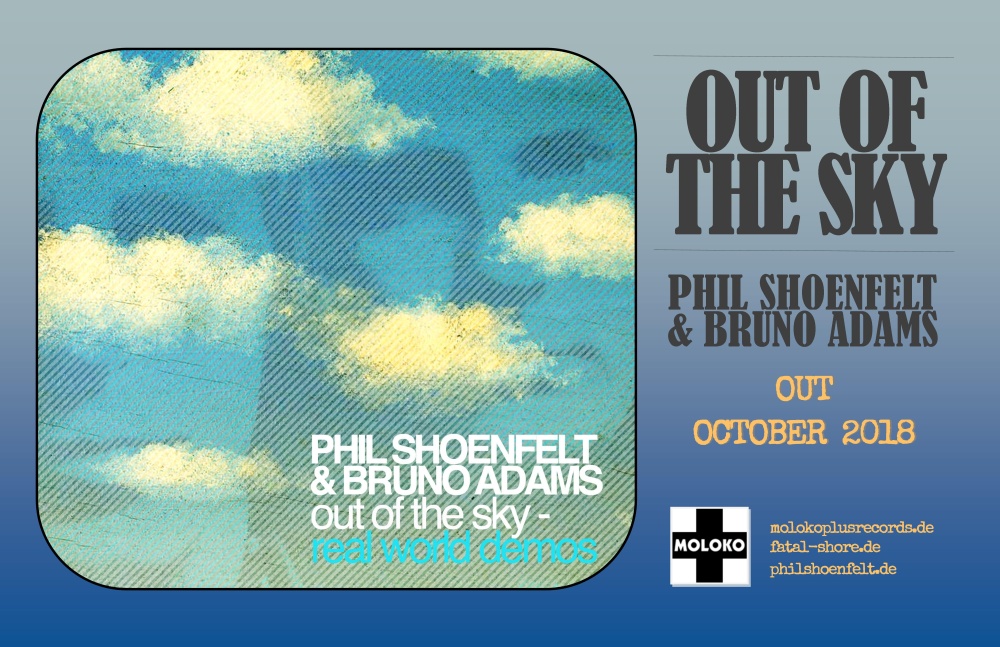 PHIL SHOENFELT & BRUNO ADAMS
"OUT OF THE SKY - REAL WORLD DEMOS"
In January 2006, Phil Shoenfelt & Bruno Adams began to prepare the songs that would later be featured on REAL WORLD, the third Fatal Shore CD (Amboss Recordings, 2007). Of the fourteen songs that would appear on

Real World

, nine are presented on

Out Of The Sky

in their prototypical form. Whereas the critically acclaimed

Real World

is notable for its lush orchestral arrangements, the songs contained on

OOTS

are remarkable for their purity of sound and the intricate interweaving of voices and guitars. Without the embellishment of bass, drums and orchestra, a rich tonality is revealed, a harmonic vibration that emerges naturally, without striving or affectation. These songs are strong enough to stand alone – they enter the consciousness of the listener in an intimate and unmediated manner. What is even more surprising is that they were recorded on a simple VS-880 8-Track in Adams' flat in Kreuzberg – a fact that is hard to reconcile with the depth of sonic field achieved.
The demos were lost for many years, and only came to light in March 2018. Now released in CD format by the German label Moloko +, they are a vivid testament to the lyrical and musical alchemy that existed between Phil and Bruno. They also preserve the songwriting legacy of Adams, who died from colon cancer in 2009 at the age of forty five.
MOLOKO +
29.08.2016



Various Artists "A Taste Of Moloko Plus 1996 - 2016"



The 2-CD compilation includes

"100 Degress In The Shade" and
"Wild Is The Wind" by Fatal Shore,
"Dan The Man From Ampellang" by Dim Locator,
and a new and previously unreleased song by Phil Shoenfelt, called "Resurrection Day", produced by Thor Sten Beckmann (Herbst In Peking).

www.molokoplusrecords.de
www.soundcloud.com



"A Taste Of Moloko Plus - 20 Years Of A Record Label":



4 Live Shows with



Phil Shoenfelt & David Babka




Herbst in Peking




Machine de Beauvoir



28.09.2016 "Scheune", Dresden
29.09.2016 "Kassablanca", Jena
30.09.2016 "Wabe", Berlin
01.10.2016 "M.A.U. Club", Rostock



---





New CD by Dim Locator (Shoenfelt / Allen / Hughes)


"Six Miles Deep"




9 live songs recorded at "die naTo", Leipzig, 12/04/2015



Now available at Moloko +
05.08.2011
Dim Locator (AUS/UK) is a new band formed from the ashes of legendary Berlin-based band Fatal Shore.
The group comprises Phil Shoenfelt (guitar/vocals), Chris Hughes (drums/percussion) and Dave Allen (bass guitar).

Englishman Phil Shoenfelt has lived in Prague for many years, and is known for his work with Southern Cross (Prague), Fatal Shore (Berlin) and Khmer Rouge (New York) as well as for his autobiographical novel "Junkie Love".

Chris Hughes (AUS) is based in Berlin and has played with Fatal Shore, Hugo Race & The True Spirit, Alexander Hacke of Einstürzende Neubauten, Methylated Spirits, The Act, Nina Hagen, Rowland S. Howard and almost everyone else.

Dave Allen (AUS) is also based in Berlin, and has played bass with Hugo Race & The True Spirit, Methylated Spirits and The Act.

The music of Dim Locator is stripped down industrial psych-rock music with influences from The Stooges, Beasts of Bourbon, The Birthday Party, Pink Fairies and Hawkwind.
The first online-only EP by DIM LOCATOR, called "IMMORTALISED", was released through German company Fuego on Friday 29.07.2011.

The three song EP is a tribute to the late, great Rowland S. Howard, and contains the following songs:

1. I Ate The Knife
2. Undone
3. Dead Radio

The EP is available as a download @
For more information visit: http://thedimlocator.webs.com and http://www.myspace.com/570428478